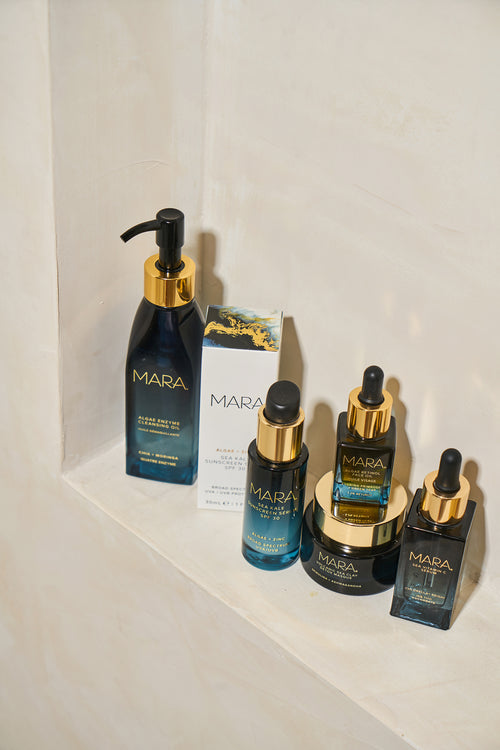 SUSTAINABILITY
Making sure your MARA doesn't end up in a landfill is our top priorty. Our formulas are housed in gorgeous glass bottles that are recyclable along with our aluminum gold caps.
We are currently re-vamping our recycling program. For more information, please reach out to recycle@themarabeauty.com
Our Commitment to Sustainability 
Our commitment to protecting our oceans and doing our part for our planet is at the core of everything we create at MARA. 
1% For the Planet
MARA commits 1% of annual sales to 1% for the Planet, a global organization that exists to ensure our planet and future generations thrive. 
1% for the Planet accelerates smart environmental giving, prevents green washing, certifies reputable giving and provides accountability for environmental giving. 
Certified Plastic Neutral
We are proud members of Repurpose Global and are a Certified Plastic Neutral Brand. We donate to Project Neela Sapana, the Impact Project to stop ocean-bound plastic waste from leaking into Chennai's coasts and protect the Bay of Bengal.
Sea Trees™
MARA donates to Sea Trees to help combat carbon emissions by reforesting kelp off the coast of Palos Verdes Estates, California. Globally, kelp forests sequester as much CO2 as the world's mangroves and annually, MARA helps reforest thousands of acres of kelp. 
Eco-Friendly Components
MARA uses recycled and recyclable glass bottles. Our unit cartons are FSC-Certified and use low VOC UV vegetable-based inks, recyclable water-based coatings and have optimum packing design to minimize paperboard waste and reduce forestry burning. We also send product to customers in recycled kraft boxes with kraft crinkle paper, which are both recycled and recyclable, as to not create additional waste that just gets tossed upon opening.  
Recycle With Us
We are currently re-vamping our recycling program. Please email recycle@themarabeauty.com for more information. 
Wild Collected Algae
Our proprietary blend is sustainably harvested via wild collecting in Ireland and France, a method similar to wild crafting that ensures algae colonies are not over harvested and stay healthy year over year. 
Bioaccumulation & Ecotoxicity
We have banned over 2,000+ ingredients from our formulas, and take a full circle approach to ensure all ingredients are safe for you and safe for our planet. This means eliminating any ingredients that cause ecotoxicity by bioaccumulating in our oceans, marine life and food chains, ultimately harming our waters and our wildlife. 
Green Manufacturing Practices
Additionally, we have green manufacturing practices in place to reduce energy consumption, pollution, and help conserve natural resources. 
At MARA, we believe beauty shouldn't be at the expense of our environment. Thank you for helping our world #SeatheGlow